Home :
About Me :
Interests & Hobbies
Interests & Hobbies
Rafting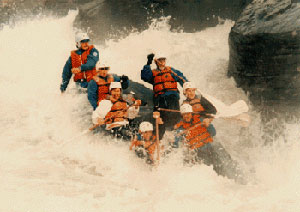 Pillow Rock Rapid - The Gualey River, West Virginia
I've been rafting for a little over 10 years; so far I have only done the
Gauley River in WV
, the
New River in WV
, and the Arkansas in Colorado through the Royal Gorge. My family has been a customer of
Mountain River Tours
for close to twenty years. They are an outstanding outfitter in the Hico, WV area and I recommend them to anyone.
Part of the fun of the New is the lore, the New is an odd name considering that it is said to be the second oldest river in the world. It is one of the most beautiful rivers I've seen, set deep in a gorge of its own making, fall colors are just amazing. A lot of people have seen the New River Gorge without even realizing it, a GMC commercial a number of years ago featured a GMC Jimmy being bungee jumped off a large bridge, that was the New River Gorge Bridge, which is one of the largest bridges of its type in the world.
Computers/Computer Games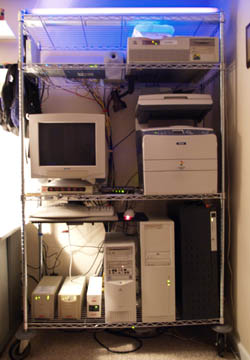 Some of my computers,
where I explore and learn.
Computers were my first love. I have been involved with computers since the age of 8 - the first computer I was exposed to was a Timex Sinclair PC. My first real experience began when my parents enrolled my brother and I in the "Kids and The Apple" summer camp during the summer of my third grade year.
From there it snowballed, I learned how to program and how to work with computers. First I started with simple Apple BASIC and then worked my way up from there. While at Purdue I learned about the Internet, first playing around with UNIX shell accounts, FTP, and UseNet News (NNTP). A little while later the Web and HTTP started to become more common. At the time I was a Technical Graphics major (now called Computer Graphics) and the web was a natural blend of both my computer background and my major. I learned HTML and then JavaScript, VBScript, and Java. I am constantly learning new things on my LAN at home (pictured right). In the last year alone in my personal time I have learned Linux and BSD operating systems.
Through all of it, I have been a fan of computer games. My interest started with the Atari 2600 and then grew on from there. Computer games have been quite educational for me, a lot can be learned from the interfaces in the way they solved the many technical issues. Games have also sparked my interest in computer graphics, taught me the basics of computer networking, and most importantly gave me the love of computers.
Cyling
Having grown up in rural Indiana miles away from town, I was only able to get to town by biking. I must have put over 50,000 miles on my old Schwinn R42 Predator Mag BMX biking around my home towns of Arcadia and Cicero, IN.
Colorado is
loaded
with excellent biking trails and I live within striking distance of the Mountain Biking heaven - Moab, Utah.
Since moving out here I have become a member of the
Western Colorado Cycling Club
where I designed their logo, web site and maintian that site.
Skiing
One of my newer hobbies.
After moving to Glenwood Springs, virtually in the middle of ski country, it would've truly been a crime not to learn. Without ever having skied regularly before I bought poles, boots, and skis and have been going every Saturday.
It is quite a challenging and fun sport. I've picked it up pretty well. I very much enjoy zipping around the mountain carving turns.
Photography
Most of my photography is showcased in my
Destinations
section.